News and Press Coverage
June 27, 2023 - KnoxNews
The second half of a major renovation to the former state supreme court site in downtown Knoxville is nearly complete, and new residents already are taking advantage of the amenities and views of the city's most notable landmarks.
Church+Henley, located at the intersection of its namesake streets, has added nearly 240 apartments to the downtown market. The roughly $63 million apartment building brings the project's total investment to nearly $100 million, a spokesperson told Knox News, which includes the cost to open the Tribute at the former supreme court building last year.
June 27, 2023 - Inside Knoxville
Later today, Bristol Development Group Principal Charles Carlisle, Dover Signature Properties President Rick Dover, Knoxville Mayor Indya Kincannon, Knox County Mayor Glenn Jacobs, Members of Knoxville City Council, and Members of Knox County Commission will gather to celebrate the ribbon cutting of the much-anticipated Church+Henley Apartments.
In the Fall, we told you about the renovation of the former Supreme Court building to a 63-unit, flexible-term rental space, The Tribute. Church+Henley is a continuation of the partnership between Bristol Development Group and Dover Signature Properties and represents a combined $100 million investment into downtown Knoxville between the two projects.
September 14, 2022 - Inside Knoxville
It took 2½ years, but Dover Signature Properties has renovated and opened their latest development project in downtown Knoxville, The Tribute. Located in the 1950's era, former TN Supreme Court Building and State Office site at 625 Cumberland Ave., The Tribute is now a mid-century modern living space that offers flexible-term rentals and a rooftop lounge with some of the most stunning views of Knoxville.
Empty for a number of years, the former government building was in need of much attention and countless hours of work. From battling the pandemic and cost of services and materials, to removing asbestos, developer Rick Dover and his team had an uphill battle. The final product was worth every step.
September 13, 2022 - Knox News
It's not exactly a hotel, an apartment complex or an Airbnb.
Developer Rick Dover has combined all of the above to bring something new to Knoxville with The Tribute, a complete reimagining of the former Tennessee Supreme Court building along Henley Street in downtown Knoxville.
It's a $15 million redevelopment that leads the way for further transformation of downtown's quietest sector.
"The southwest corner of downtown has always been quiet," Dover told Knox News. "There wasn't really much pedestrian reason to be here. I think that's changing. ... We're trying to activate the Henley Street sidewalk."
June 17, 2022 - Instagram @historicmacon
Dozens of people — including former teachers, administrators and staffers at Alexander IV Elementary School (and Elam Alexander Academy) — gathered late Thursday morning as the 90-year-old building was reborn as Alexander IV Senior Living.
June 16, 2022 - 41WMGT News, Macon, GA
The 90-year-old building that used to house Alexander School Number IV, found a new purpose. It's now called Alexander IV Senior Living.
"I'm from Macon and it means a lot to me just to see this building restored," said Quinton Jones, Executive director for the facility.
Jones says for years, he wondered what the building was going to become, and he's excited to be a part of the next phase of history for the building..
June 16, 2022 - 13WMAZ News, Macon, GA
A historic Macon building is now a home for folks in their golden ages. The former Alexander IV Elementary School on Ridge Avenue has been remodeled and is now a senior living center.
Agnes Dannenberg remembers living just down the street from Alexander IV Elementary School. "I was here when some of those trees were planted outside, some of those gorgeous trees," Dannenberg said. "All my neighbors went to school here, my sons went here."
Dannenberg has lived at the new senior center for three months. She says she feels like she's living back in time. Her new home is what used to be the principal's office.
June 16, 2022 - WGXA News, Macon, GA
A once abandoned Bibb County School has been transformed into a senior living center.
Six years ago, the transformation of Alexander IV Elementary School began. What was an empty and abandoned building is now a high-end living center. County officials cut the ribbon celebrating the building's rebirth Thursday.
A media release from Historic Macon reveals the new center has 63 units and will include a new 25-unit memory care wing for those with Alzheimer's Disease. There are also communal spaces the public can use.
May 5, 2022 - WGXA News, Macon, GA
MACON, Ga (WGXA) -- The Historic Macon Society celebrated accomplishments in preservation and rehabilitation work on Wednesday night.
[...]
The ceremony was part of the foundation's annual meeting during National Preservation Month, showcasing highlights from the organization's fiscal year.
January 13, 2022 - Knox News
Shea Ramsey selected as one of the Knox.Biz 40 Under 40 Class of 2021
Shea Ramsey, 37, Vice President/COO, Dover Signature Properties Inc. Shea Ramsey has a deep respect for the past while looking ahead to Knoxville's future.
He's the vice president and COO of Dover Signature Properties, the company behind some ambitious projects that have transformed vacant places into vibrant living spaces.
The company that has revitalized the Hyatt Place hotel and Historic Knoxville High now is in the midst of redoing the old Tennessee State Supreme Court site. He's working hard to keep the redevelopment momentum going while focusing on his life outside the job, too.
December 10, 2021 - WBIR News
The Hyatt Place Knoxville takes over where the Farragut Hotel once stood. Photo courtesy WBIR.com
On December 10th, 1932, 89 years ago, the Southeastern Conference (SEC) was created in Knoxville.
The SEC was formed during a meeting on Dec. 8-11, 1932 at a hotel that is now the Hyatt Place Knoxville/Downtown on Gay Street.
The East Tennessee Historical Society posted that 13 member institutions west and south of the Appalachians formed the conference during a meeting on Dec. 8-11, 1932 at a hotel that is now the Hyatt Place Knoxville/Downtown on Gay Street.
October 15, 2021 - Livability
Cocktails accompanied by a sweeping city view? Sign us up!
What better way to celebrate cooler temperatures than with a refreshing drink on an open-air patio, preferably one with a bird's-eye view of spectacular surroundings?
It's what you'll find at these 10 rooftop bars around the country. Odds are, they're places you haven't tried yet, from new locations just opening to smaller cities where you can escape the crowds. Bottoms up!
October 21, 2021
Hyatt Place 530 Lounge wins ASID Gold Award
Inclement weather and cold winter months meant the Hyatt Place rooftop lounge could not be utilized year round. So owner Rick Dover decided to construct a 2,200 square foot indoor rooftop lounge area that could be used by the guests for multiple functions throughout the year from receptions, football parties or just a night on the town.
The enclosed space presented challenges for lifting materials up to the 11th floor to the rooftop from the 32-foot banquette, quartz countertops and 14-foot-tall glass panels. The GC worked with the city to get permits to block the street to crane the materials for this project.
The finishes were of utmost importance in style and durability. Contemporary seating design can be found throughout the spaces to accommodate larger groups down to small intimate couples seating. The seating was designed with multiple opportunities for guests to select from bar-height chairs, counter-height bar stools and lounge seating. The large-scale seating pieces do not overwhelm the space because of the openness created by the windows which surround the three sides of the room.
The lighting was designed for multi-functional applications by using a dimming system for various functions. The back bar has an LED backlit panel of mica gold flecks in a resin to enhance the warm cozy atmosphere.
Now the guests have the option of being outside or inside for drinks and small plate dinner options. The views of city and mountains can be seen for miles, as well as the sunrise and sunset each day for the guests to enjoy. The project was completed in November 2020.
October 13, 2021 - Knox News, by Brenna McDermott
Lakeshore Loudon would be a $40 million mixed-use development construction along the Tennessee River in downtown Loudon. Developer Rick Dover must still receive city approval for the project, which would take several years to construct. The city has long sought redevelopment of this property, which once housed factories dating back to the 1800s and early 1900s. DK Levy designed this proposed neighborhood, which includes multi-family and single-home units.
The city of Loudon's downtown riverfront was a hub of industry throughout the 1800s and 1900s. Developer Rick Dover hopes to give part of that riverfront new life as a neighborhood.
Dover Signature Properties has proposed a $40 million new construction, mixed-use development on the banks of the Tennessee River on both sides of Highway 11 in downtown Loudon.
Early designs by Knoxville firm DK Levy show Lakeshore Loudon would be a classic grid neighborhood with 210 multi-family units on the riverfront, 60 single-family units, pocket parks, greenways, a coffee shop, retail and walking trails.
Dover's proposal for the 15-acre property must be approved by Loudon City Council before moving forward.
October 06, 2021 - News-Herald
Rick Dover, Dover Signature Properties president, talks about a proposed $40 million project to build 270 residential units, commercial space and walking trails along the downtown Loudon waterfront.
An East Tennessee company has proposed a $40 million development on the Loudon waterfront that could include 270 new residential units, walking trails and commercial space.
Rick Dover, Dover Signature Properties president, unveiled plans showing site layouts and building exteriors during a community meeting Sept. 28 under the Highway 11 bridge in downtown Loudon. "We're here today to show this to the public." Dover said.
He said the project would take an old waterfront with a classic street grid and redevelop the site in a modern way. The mixed-use development, called Lakeshore Loudon, would be on 15 acres on both sides of the bridge. There could be a mix of rental townhomes, apartments and houses, along with commercial space such as a coffee shop, hair salons and water sports retail. A playground, walking trails and green space could also be available.
September 28, 2021 - WATE.com
Image extracted from WATE photo.
The place where factories once stood along Loudon's waterfront is being targeted for housing, parks and walking trails. The city worked with Dover Signature Properties to create a plan for a 15-acre development along the Tennessee River on the old Smith Chair and Hutch Manufacturing/Bacon Creamery properties.
The project will consist of a mix of apartments and houses and include multiple parks, greenways and riverfront walking trails. Within the development, there are also plans for a number of commercial spaces that can be used for coffee shops, hair salons and other small businesses.
In addition to the development, the city has also received a grant to create a marina in the area to allow for additional use of the waterfront. According to Dover President Rick Dover there are plans for a number of watersports to be brought to the area.
June 13, 2021 - Knoxville Focus by Design
Dover Signature Properties Wins Award–Again
It's gone from abandoned urban blight to an inviting home for dozens of seniors in Knoxville. And now it has won the highest local award given for historic preservation.
The old South High School, now reborn as South High Senior Living, was chosen for the Mayor's Award for the top historic preservation project in Knoxville by Knox Heritage.
May 27, 2021 - Inside of Knoxville, by Knoxville Urban Guy
The City of Knoxville presents the Mayor's Award each year and this year the award went to "Dover Signature Properties and BarberMcMurry Architects for restoration of the historic South High School at 835 Tipton Avenue." Now brought back to life as South High Senior Living, the roof had literally caved in and the building was very nearly lost.
Each year, Knox Heritage presents awards to the very best preservation projects in east Tennessee. Many of those projects are in or near downtown Knoxville, and this year was no exception. Also, many of the awards went to projects I've profiled on this website. This particular year, Sanders Pace Architecture dominated the night with projects from South Knoxville to North Knoxville. Here's a look at the projects in the downtown area or nearby.
The City of Knoxville presents the Mayor's Award each year and this year the award went to "Dover Signature Properties and BarberMcMurry Architects for restoration of the historic South High School at 835 Tipton Avenue." Now brought back to life as South High Senior Living., the roof had literally caved in and the building was very nearly lost. I profiled the project last July.
The Knoxville History Project took home the Media Award for their book Historic Bearden: The 200-year Story of Knoxville's Fourth Creek Valley. Jack Neely Wrote the book, Paul James edited and sourced the images and Robin Easter Design (who are responsible for development of this website) provided design services.
May 20, 2021 - Knox Heritage
The City of Knoxville Mayor's Award was presented to Dover Signature Properties and BarberMcMurry Architects for restoration of the historic South High School at 835 Tipton Avenue. Dover obtained the property in 2016 after several attempts by others to redevelop the space. It took a year to stabilize and two years to renovate the building into South High Senior Living.
March 18, 2021 - Knox News, by Brenna McDermott
Five Thirty Lounge invited Knox News to a soft opening Tuesday to show off its new space and expanded menu, which the team hopes will keep guests at the rooftop bar beyond just one or two drinks.
The menu includes new cocktails and a variety of small plates, including a focus on sushi.
The original rooftop bar, located on the east side of the Hyatt Place Knoxville Downtown roof, opened in April 2018. Hotel owner Rick Dover closed the entire roof in 2020 to add a year-round indoor bar and a new outdoor deck on the west side of the building overlooking Gay Street.
Rooftop bar has a lot to look at. The indoor portion of the bar opened in December and features 18-foot ceilings, a showstopping bar back and 15-foot windows. Each outdoor deck offers unique mountain and city views, including a view of Gay Street and Krutch Park from the west deck.
January 6, 2021 - CoStar News, by Richard Lawson
The biggest downtown redevelopment project involves converting a long-empty former state Supreme Court building into a boutique hotel, while 237 luxury apartments are planned at an adjacent parking lot.
It's in a federal "opportunity zone" that covers all of downtown. As one of some 8,000 zones around the country created under the 2017 Tax Cuts and Jobs Act, investors may lower or eliminate capital gains taxes entirely depending on how long they hold their investment.
The former State Supreme Court in downtown Knoxville, Tennessee, is being converted into a boutique hotel. (Richard Lawson/CoStar News) "We raised some $20 million in opportunity zone capital to do it," said Sam Yeager, a principal for Franklin, Tennessee-based Bristol Development, which is building the apartments.
Locally based Dover Signature Properties is converting the existing building into a hotel. In all, it's a $76 million project that is scheduled to open in 2022, presumably well past the end of the pandemic.
While the ULI is touting the city's investment potential, Yeager said he and his partners have seen it for years and built their business for over two decades investing in Knoxville, Chattanooga and Richmond.
"They are vibrant towns where the governments are heavily involved and want great downtowns," Yeager said. "They're not washed up and going away."
December 10, 2020 - WBIR News
The Five Thirty Lounge on top of the Hyatt Place Hotel welcomes visitors in an outdoor and indoor space.
The rooftop bar offers craft cocktails, regional beer, wine and tapas. The staff observes COVID-19 protocols including wearing masks and sanitizing. Currently occupancy is limited to allow guests to spread out and reservations are available online.
December 4, 2020 - Inside of Knoxville
The Five Thirty Lounge on top of the Hyatt Place hotel opens today. The hotel opened in July 2018 and a rooftop bar was opened in August of that year. The space included about 5,000 square feet on the eastern side of the rooftop and was successful from the beginning, with lines forming downstairs on a regular basis. It closed earlier this year for a massive renovation.
The space has expanded to about 12,000 square feet, well more than double its previous size. The exterior space covers nearly the entire rooftop, with mountain views and city views in every direction. Exterior seating and standing bar tops lining the rooftop will offer great views in every direction. A state of the art sound system has also been installed.
Rick Dover, whose Dover Signature Properties owns the building, said that he knew what he wanted to do with the initial phase of the rooftop bar when the hotel opened. Determining how to utilize the remainder of the space was more of a challenge. During 2018 and 2019 he traveled to cities across the country visiting rooftop bars to collect ideas to build his ideal space.
December 3, 2020 - Knox News
In preparation for expanding the rooftop bar at Hyatt Place Knoxville Downtown, owner and developer Rick Dover did plenty of hands-on research.
"This has been about a year in the design phase, during which time I attempted to visit every rooftop bar in every major metropolitan area in the continental U.S," Dover told Knox News.
Five Thirty Lounge opens Friday and now features additional outdoor seating on a new deck overlooking Gay Street and a year-round indoor cocktail lounge.
"I wanted it to be not fussy but upscale, and not snobby but nice," Dover said. "And a place where I'd want to go and take my wife for dinner and a drink and be on top of a building downtown and see all of this environment, architecture, lighting, music and just the whole vibe and scene."
September 1, 2020 - City of Knoxville Blog
A crane marks the spot where one of the biggest private construction projects in the history of downtown Knoxville began last fall. Dover Signature Properties and Bristol Development Group are transforming the vacant state Supreme Court city block into a 237-unit apartment community and hotel. The mixed-use project is a $76 million private investment.
Despite the pandemic, work cranes dot the downtown Knoxville landscape, lifting and toting. More than $180 million is being privately invested in condominiums, apartments, restaurants, offices and hotel renovations.
Anticipate another 1,000 new residents to be living in or near downtown by next summer.
Tim Hill, co-owner of Hatcher-Hill Properties, which is managing two current construction projects, summed it up this way: "We're very bullish about downtown. We're not looking at short-term development – we're looking at 20 to 50 years. So if there's a little blip in the economy, that's OK, we'll continue on about our business."
July 17, 2020 - Knox News
South High was opened in 1937 and served students until 1991. Dover Signature Properties acquired the property in 2017. The firm also redeveloped Knoxville High Senior Living.
July 6, 2020 - Inside Knoxville
South High Senior Living, the latest project from developer/owner Rick Dover opens today to new residents. The project started with a building, the former South High School, which had literally fallen in on itself. Mr. Dover said it took most of a year simply to clean out the roof and other structures that had to be removed before renovations could begin.
The project took several years and over twelve million dollars to bring the building back to life. South High School closed its doors in 1991 after serving students since 1937 (first as a junior high), and the building remained empty until the current renovation. It was purchased in 2008 by a developer who failed to see the project through and it was ultimately re-purchased by the city in 2015. A request for proposals to save the building netted a total of one and that one from Dover Development, which purchased the building from the city.
July 2, 2020 - The Telegraph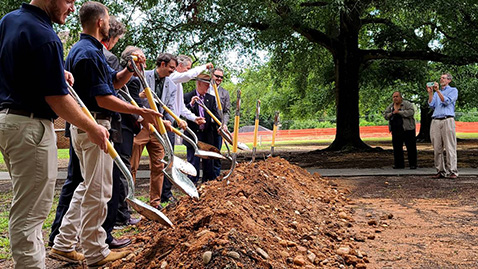 Alexander IV Elementary School will be transformed into a senior living center by the same name by this time next year.
The combined forces of the Historic Macon Foundation, Piedmont Construction, and Dover Signature Properties are using $12.5 million to fund the renovation and new construction at the former school. Representatives from the three organizations and Bibb County officials gathered at the school for a ceremonial groundbreaking last week.
The school building, located in the Ingleside neighborhood and known colloquially as Alex IV, will be transformed into a 60-unit "high-end senior living center," with spaces designed for public and community use.
April 15, 2020 - Knox News
The March open house for South High Retirement and Assisted Living Facility was inevitably postponed due to Covid-19, and resident move-in dates are on hold for now. Those eager to see the extensive changes can instead take a safer, virtual tour via https://southhighknoxville.com/ while work is completed on South High Senior Living.
The transformation of South High from an abandoned school into a luxe senior living facility has been three years in the making. "It has been an extensive process. This building was abandoned for quite some time," Haley said. "A local group of people really wanted to see it saved. Rick Dover, the owner, worked with that team to salvage this beautiful piece of property."
Dover, who has transformed many local historic buildings in Knoxville, started work on it in October 2016. "Prior to that, the City of Knoxville were looking at a few different facilities," said Haley. "And, then there were conversations about bulldozing it."
January 7, 2020 - Knoxville Focus
Old South High School's transformation to South High Senior Living is progressing nicely! The conversion of the old school, which was built in 1937 and closed following the graduation of the class of 1976, is quickly transforming into the vision of Dover Signature Properties.
Dover Signature Properties is developing a new Assisted Living and Memory Care community to be managed by Integral Senior Living when completed in April 2020. The project is estimated at $12.2 million to restore and renovate the 42,000-square foot building.
Helen Porter, executive director of South Knox High Senior Living, toured the renovations last week and is excited about the progress. She is a certified dementia practitioner and an Alzheimer's disease and dementia care trainer. Porter said that this will be one of the most beautiful senior living communities in Knoxville and said she is thrilled for South Knoxville natives to have a place to call home. Thirty-four apartments will be devoted to assisted living residents and 24 will be devoted to memory care residents. Individuals age 62 years and older may qualify for care in the community.
December 10, 2019 - Knoxville Focus
What developer Rick Dover has done with old Knoxville High School is amazing. If you ever visited the old building before Dover bought and converted it to apartments you'd be absolutely pleased.
Dover, who is known for repurposing old buildings, started in Lenoir City and Loudon by buying and renovating a former hospital, an old school, and the historic Carmichael Inn.
While he's built new structures, like Northshore Senior Living, his real talent and love is returning old buildings to use with modern amenities. His approach in creating Oakwood Senior Living out of a former school and his conversion of the old Farragut Hotel into Hyatt Place has received praise. And he loves to include the history of the buildings into the renovation.
October 30, 2019 - Inside of Knoxville
It's been many years coming. The reclamation of the city block bounded by Church Ave., Cumberland Ave., Locust St., and Henley St. has seen several aborted attempts at returning it to life. I first reported on the current proposal (though it has since evolved) over two years ago. Most recently, I presented the current version of the plan last May. With the first scoops of dirt moved by local dignitaries today, the project is officially underway.
It is being called "one of the biggest private projects in the history of downtown Knoxville" by the developers. The project includes 237 apartments with parking and amenities and a conversion of the former Supreme Court and adjacent building into a hotel. It's a joint project with Dover Signature Properties and Bristol Development Group with a projected total investment of $76,000,000.
"Dover is based locally, and while Bristol Development is based in Nashville, its CEO, Charles Carlisle, is a UT graduate who started his career in Knoxville. The project blends new construction with a renovation and re-purposing of an older building. It's something Dover Properties has done successfully with numerous local, historic properties, such as Knox High Apartments (formerly Knoxville High School) and Hyatt Place (formerly the Farragut Hotel).
October 27, 2019 - Knoxville News Sentinel
As Dover Signature Properties and Bristol Development Group begin construction in early November to revitalize the city block bounded by Locust Street, Cumberland Avenue, West Church Avenue and Henley Street, the developers hope the $76M project will lead the transformation of the southwest quadrant of downtown.
The project, one of the largest upfront private investments in downtown's history, will repurpose the former State Supreme Court building, its attached office tower and its parking lot into a short-term rental hub and a mixed-use apartment community.
"I think we'll raise the bar for the experience that people have coming to downtown Knoxville," Dover Signature Properties president Rick Dover said.
July 10, 2019 - Knoxville News Sentinel
Another step in the $12.2 million redevelopment of old South High into a senior living facility was taken Tuesday, with a ceremonial viewing of the progress of the project.
City Council members, Mayor Madeline Rogero and developer Rick Dover, as well as members of the South Knoxville community, hammered nails and signed wallboard, which was installed in what used to be the old gym and was later converted into a cafeteria.
"We're inviting folks in for a kind of progress viewing. We will go in and we'll have some before pictures and you'll see the process as it unfolds," Dover said. "We're just now starting to hang the Sheetrock ... so it just seemed like a fun thing to do to ask anyone who is interested to come in and drive a nail into the Sheetrock."
July 05, 2019 - WBIR News
The old school on East Moody Avenue in South Knoxville has been empty since 1991. Rick Dover, the developer responsible for Knoxville High Senior Living near downtown Knoxville, plans to also turn this school into a senior living facility.
Crews have already put new windows and a new roof on the building. The city said they are working on the interior of the school now. Next week, the city plans to install sheetrock in what was once the gym.
There have been previous attempts to privately redevelop the property but they failed and it continued to deteriorate. "Knoxville City Council in 2015 authorized the City's purchase of the blighted former South High School for about $190,000, and the City's Community Development Department issued a Request for Proposals, seeking a new owner who would renovate the iconic site and bring it back into reuse," a release from the city said.
May 2, 2018 - Inside of Knoxville
Rick Dover, DIA Architects, J Davis Architects and Bristol Development Group recently presented their current vision for the Supreme Court Site on the downtown block bounded by Henley, Church, Locust and Cumberland to City Council in a workshop. The entire city block project is pivotal to downtown development as it has the potential to connect downtown to the Convention Center and beyond, to stretch downtown residential and retail parameters and to engage and begin to reshape Henley Street.
The original proposal by Rick Dover was accepted by the city in December 2016. You can see my summary of that plan and a link to the full plan in my article from just over a year ago. Part of that agreement was that conceptual designs would be submitted for discussion by April of this year with a deadline of December of this year for the plans to be accepted by the city in order for the project to move forward. This was a meeting to discuss that submission. The agreement further states that construction must begin by the end of 2019 and it should be completed by 2022....
April 23, 2018 - The Knoxville Focus
Developer Rick Dover and his partner, Charles Carlyle of Boston Development, shared their tentative plans for the redevelopment of Knoxville's former State Supreme Court building with city council members Thursday afternoon.
Empty for years the complex takes up a block of downtown between Henley, Cumberland, Locust and Church Streets, opposite the Knoxville Convention Center. Deputy Mayor Bill Lyons spoke to the council's special work session about the project last Thursday.
Lyons detailed the building's history beginning in 2005 when the state agreed to work with the city for the municipality to acquire the building. He said two previous proposals fell through for development before the city finally acquired it in 2015. Last year Dover submitted a proposal which was approved and then amended earlier this year.
The council got its first look at concept drawings and Lyons said that the final closing of the agreement will come in December with construction starting next year and being completed in 2022..."
Feb 28, 2018 - WBIR News
It's been 67 years since the last graduating class at Historic Knoxville High and now the doors will soon reopen with a new purpose.
Feb 14, 2018 - WBIR News
On this Valentine's Day, Chief Meterologist Todd Howell and 10News anchor Russell Biven decided to share some love.
Dec 19, 2017 - City of Knoxville
As the book closes on 2017, many will mark it as the year Knoxville's development went from incremental climbs to a big boom.
In the year's first 11 months the city issued building permits for construction projects worth $476 million, a 12.8 percent gain from the same period of 2016, according to a news release from the city.
Knoxville developer Rick Dover said 2017 has been a "tipping point" for the city and downtown, specifically with more good to come. For his part in the boom, Dover opened a Hyatt Place in the historic Farragut Hotel downtown Monday and by the end of the year will open an 80-unit senior independent living facility inside the former Knoxville High.
"From what we've seen in the last year, the city is turning and it's being perceived in a whole different light than it had been…it's growing organically and people are willing to invest and create buildings and experiences that are vastly different than what they had been even two or three years ago," Dover said.
Dover continued and said the city is being looked at nationally and is being mentioned in the same sentences as Denver, Colorado, Austin, Texas and Nashville. People and money are flowing in, he said.
"I love it. I don't see a downside to this," he said. "I don't think we're giving up our identity for growth. I don't see us losing any of our authenticity or soul due to the growth."
Dec 21, 2017 - Knoxville News Sentinel
A huge crowd gathered in the lobby of the Farragut Hotel building this morning, as the Dover Signature Properties, White Lodging and Hyatt Place team cut the ribbon at 530 S. Gay Street.
Over the past nearly two years, the redevelopment team did a great job with a labor of love, restoring this grand 100-year-old hotel, which had sat empty for decades. Guests at the ribbon-cutting complimented the attention to detail, the devotion to historical accuracy, and the hundreds of pieces of original artwork by local artists that adorn the new hotel.
The redevelopment team received top awards earlier this month when Knox Heritage presented its annual preservation awards.
Dover Signature Properties and Design Innovation Architects won the Mayor of Knoxville Award for this Farragut Hotel project; Dover Signature Properties also won the Knox County Mayor Award for its Knoxville High restoration, and Design Innovation Architects' founder and president, Faris Eid, who partnered on the Farragut Hotel, also was named Knox Heritage's Preservationist of the Year.
Dec 19, 2017 - WBIR 10 News
The Hyatt Place Knoxville will open this week on the 500 block of Gay Street. The same building once housed the famous Farragut Hotel. On Tuesday, all those involved with the process of renovating this 100-year-old building met to cut the ribbon and mark the beginning of a new era for this corner of downtown.
"Thank you, thank you for coming today," said general manager of Dover Signature Properties Rick Dover. He leads the execution for Hyatt Place.
The building was constructed in the early 1900s as the Farragut Hotel.
"It's a historic preservation project for a 100-year-old building at the corner of Gay and Clinch downtown," Dover said, "so wow, what an honor to be able to do this project.".
Dec 19, 2017 - Knox News
Not yet, but very soon – that's when the Hyatt Place Downtown Knoxville will open to guests in the former Farragut Hotel building at 530 S. Gay St.
Developer Rick Dover joined a lobby full of downtown businesspeople, local officials and media for the ribbon-cutting Tuesday morning.
The hotel will open "a few days from now," General Manager Trenton Keelen said, but the ceremony was held early, before people left town for the holidays. The hotel is already accepting reservations for Jan. 5 and subsequent dates, he said. Initially, rooms are running from about $169 to the "low $200 range," Keelen said.
December 11, 2017 - News Release
Dover Signature Properties Honored Again with Two Awards from Knoxville Heritage
Two historic preservation projects, both by Dover Signature Properties of Knoxville and both opening in just weeks, won major honors from Knox Heritage during the organization's annual awards event.
Dover Signature Properties projects won both the Mayor of Knoxville Award and the Knox County Mayor Award.
The Knoxville Award was presented jointly to Dover Signature Properties and project architect Design Innovation Architect for the Farragut Hotel in the heart of downtown. The 100-year-old building, originally a hotel, was converted to office space in the 1970s, then sat vacant for years. Dover acquired the building and is spending upwards of $25 million converting it into the Hyatt Place Downtown Knoxville, which will open later this month. The building has been gutted and redone to state-of-the-art codes, technology and other systems. In addition, the style, furnishing and art, mostly by local artists, is setting a new standard for the city.
"These projects are what we love to do, no matter how challenging they become as you get the work underway," said Dover Signature Properties General Manager Rick Dover. "DIA has been a terrific partner in taking on those challenges and finding solutions. I believe the city will be immensely proud of the final product."
At 100 years of age, the Farragut was the newer of the two Dover projects honored this year. Historic Knoxville High first opened for classes in 1910. It closed as a school in 1951 and spent the next half century as a combination storage facility and additional office space for some school programs. Dover Signature Properties is converting the building into 80 apartments for seniors. That project, also nearing completion, won the Knox County Mayor Award.
"The more we did work on the school, the more character and beauty we found," said Dover. "Beautiful wood doors and transoms, lots of natural light and the craftsmanship that may have been common at the turn of the century but is anything but common today."
Historic Knoxville High school have its first tenants within a month.
"Knox Heritage has made a real difference in our city," said Dover. "To be honored by them once again means a great deal."
Dover was previously honored by Knoxville Heritage as Preservationist of the Year.
Oct 26, 2017 - Knoxville News-Sentinel
As the new Hyatt Place Knoxville Downtown prepares to open, the 165-room hotel needs about 70 workers. So its managers are holding a hiring fair Thursday through Saturday in the Arcade Building, 618 S. Gay St., just half a block from the Hyatt. The Hyatt offers full- and part-time jobs, though the exact mix hasn't been determined, General Manager Trenton Keelen said. "It's definitely going to be heavier on the full-time side," he said.
Available positions include front desk, night audit, bartenders, housekeepers, laundry attendants, cooks, banquet servers, baristas for the lobby Starbucks, maintenance technicians, house aids, breakfast attendants, dishwashers and supervisors. The job fair runs 9 a.m. to 8 p.m. Thursday, 10 a.m. to 6 p.m. Friday, and noon to 5 p.m. Saturday. Applicants should bring their resumes, Keelen said. "Any other documents kind of come later in the interview process," he said.
Aug 6, 2017 - The Knoxville Focus
Walking through the hallways of the old Knoxville High School brings back memories for any older person who went to high school anywhere. The large facility at 101 East Fifth Avenue has four buildings and is being converted for senior living.
Recently Knox Heritage invited the public to see the progress of the ongoing renovation there and many of the former classrooms were open for visiting to see the changes. Several have been reworked and the historic school building will soon house 80 senior citizens in what the developer says will be a "fun place to live."
Developer Rick Dover told the crowd during the tour that the project may be completed and opened in November. He said the old school is, "The least ambitious of all the projects we've done because the building is in such a good shape."
Dover spoke briefly as did Knox Heritage's Kim Trent and Kevin Murphey. Trent recognized the many members and board of Knox Heritage and noted the organization's work with Dover on several other restoration projects.
"We really need some more 'gray' here," she said of downtown and the growing number of younger people moving to the revitalized city. Old Knox High School sits just one block north of the Old City on North Broadway and East Fifth.
Three floors of the main building are being renovated. Some of the former classrooms show indications of where the blackboards were and a large safe from the original school now graces one of the first rooms on the main floor. Visitors could see how the historic windows are being replaced or recovered, how the original woodwork has been revealed from under 8 to 10 coats of paint, and note several plaques that will remain honoring former students, principals, and city officials who authorized the 1910 construction.
Aug 2, 2017 - The Telegraph (Macon, GA)
It isn't the last step in the string of Alexander IV updates, but it's a step nonetheless.
The $8.8 million plan to revamp Alexander IV on Ridge Avenue into a senior facility is officially set to move forward, after Knoxville-based developer Dover Signature Properties, Macon Land Bank Authority and Historic Macon signed a contract June 15. The facility is set to have 60 units for senior living.
Construction on the project will begin in early 2018, following a year's delay due to contract negotiations among all parties involved, according to Alison Goldey, executive director of the Macon-Bibb County Land Bank Authority.
"We like to cover all the challenges, and any questions we have," Goldey said. "We needed to ... make sure we had the required zoning and ... make sure the tax credits would be in place. ... We were working with a lot of departments on this."
The goal is to have everything completed in 12 to 14 months according to Dover Signature Properties General Manager Rick Dover.
Until then, Dover Signature Properties plans to zone the property and present current designs to the public to receive feedback.
People can expect an upscale facility, designed like a fine hotel or country club, according to Dover.
June 20, 2017 - Knoxville News Sentinel
June 11, 2017 - The Knoxville Focus
June 8, 2017 - Knoxville Mercury