News and Press Coverage
March 18, 2021 - Knox News, by Brenna McDermott
Five Thirty Lounge invited Knox News to a soft opening Tuesday to show off its new space and expanded menu, which the team hopes will keep guests at the rooftop bar beyond just one or two drinks.
The menu includes new cocktails and a variety of small plates, including a focus on sushi.
The original rooftop bar, located on the east side of the Hyatt Place Knoxville Downtown roof, opened in April 2018. Hotel owner Rick Dover closed the entire roof in 2020 to add a year-round indoor bar and a new outdoor deck on the west side of the building overlooking Gay Street.
Rooftop bar has a lot to look at. The indoor portion of the bar opened in December and features 18-foot ceilings, a showstopping bar back and 15-foot windows. Each outdoor deck offers unique mountain and city views, including a view of Gay Street and Krutch Park from the west deck.
January 6, 2021 - CoStar News, by Richard Lawson
The biggest downtown redevelopment project involves converting a long-empty former state Supreme Court building into a boutique hotel, while 237 luxury apartments are planned at an adjacent parking lot.
It's in a federal "opportunity zone" that covers all of downtown. As one of some 8,000 zones around the country created under the 2017 Tax Cuts and Jobs Act, investors may lower or eliminate capital gains taxes entirely depending on how long they hold their investment.
The former State Supreme Court in downtown Knoxville, Tennessee, is being converted into a boutique hotel. (Richard Lawson/CoStar News) "We raised some $20 million in opportunity zone capital to do it," said Sam Yeager, a principal for Franklin, Tennessee-based Bristol Development, which is building the apartments.
Locally based Dover Signature Properties is converting the existing building into a hotel. In all, it's a $76 million project that is scheduled to open in 2022, presumably well past the end of the pandemic.
While the ULI is touting the city's investment potential, Yeager said he and his partners have seen it for years and built their business for over two decades investing in Knoxville, Chattanooga and Richmond.
"They are vibrant towns where the governments are heavily involved and want great downtowns," Yeager said. "They're not washed up and going away."
December 10, 2020 - WBIR News
The Five Thirty Lounge on top of the Hyatt Place Hotel welcomes visitors in an outdoor and indoor space.
The rooftop bar offers craft cocktails, regional beer, wine and tapas. The staff observes COVID-19 protocols including wearing masks and sanitizing. Currently occupancy is limited to allow guests to spread out and reservations are available online.
December 4, 2020 - Inside of Knoxville
The Five Thirty Lounge on top of the Hyatt Place hotel opens today. The hotel opened in July 2018 and a rooftop bar was opened in August of that year. The space included about 5,000 square feet on the eastern side of the rooftop and was successful from the beginning, with lines forming downstairs on a regular basis. It closed earlier this year for a massive renovation.
The space has expanded to about 12,000 square feet, well more than double its previous size. The exterior space covers nearly the entire rooftop, with mountain views and city views in every direction. Exterior seating and standing bar tops lining the rooftop will offer great views in every direction. A state of the art sound system has also been installed.
Rick Dover, whose Dover Signature Properties owns the building, said that he knew what he wanted to do with the initial phase of the rooftop bar when the hotel opened. Determining how to utilize the remainder of the space was more of a challenge. During 2018 and 2019 he traveled to cities across the country visiting rooftop bars to collect ideas to build his ideal space.
December 3, 2020 - Knox News
In preparation for expanding the rooftop bar at Hyatt Place Knoxville Downtown, owner and developer Rick Dover did plenty of hands-on research.
"This has been about a year in the design phase, during which time I attempted to visit every rooftop bar in every major metropolitan area in the continental U.S," Dover told Knox News.
Five Thirty Lounge opens Friday and now features additional outdoor seating on a new deck overlooking Gay Street and a year-round indoor cocktail lounge.
"I wanted it to be not fussy but upscale, and not snobby but nice," Dover said. "And a place where I'd want to go and take my wife for dinner and a drink and be on top of a building downtown and see all of this environment, architecture, lighting, music and just the whole vibe and scene."
September 1, 2020 - City of Knoxville Blog
A crane marks the spot where one of the biggest private construction projects in the history of downtown Knoxville began last fall. Dover Signature Properties and Bristol Development Group are transforming the vacant state Supreme Court city block into a 237-unit apartment community and hotel. The mixed-use project is a $76 million private investment.
Despite the pandemic, work cranes dot the downtown Knoxville landscape, lifting and toting. More than $180 million is being privately invested in condominiums, apartments, restaurants, offices and hotel renovations.
Anticipate another 1,000 new residents to be living in or near downtown by next summer.
Tim Hill, co-owner of Hatcher-Hill Properties, which is managing two current construction projects, summed it up this way: "We're very bullish about downtown. We're not looking at short-term development – we're looking at 20 to 50 years. So if there's a little blip in the economy, that's OK, we'll continue on about our business."
July 17, 2020 - Knox News
South High was opened in 1937 and served students until 1991. Dover Signature Properties acquired the property in 2017. The firm also redeveloped Knoxville High Senior Living.
July 6, 2020 - Inside Knoxville
South High Senior Living, the latest project from developer/owner Rick Dover opens today to new residents. The project started with a building, the former South High School, which had literally fallen in on itself. Mr. Dover said it took most of a year simply to clean out the roof and other structures that had to be removed before renovations could begin.
The project took several years and over twelve million dollars to bring the building back to life. South High School closed its doors in 1991 after serving students since 1937 (first as a junior high), and the building remained empty until the current renovation. It was purchased in 2008 by a developer who failed to see the project through and it was ultimately re-purchased by the city in 2015. A request for proposals to save the building netted a total of one and that one from Dover Development, which purchased the building from the city.
July 2, 2020 - The Telegraph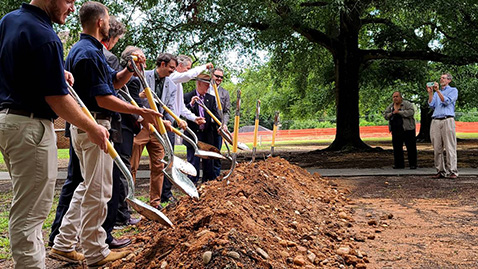 Alexander IV Elementary School will be transformed into a senior living center by the same name by this time next year.
The combined forces of the Historic Macon Foundation, Piedmont Construction, and Dover Signature Properties are using $12.5 million to fund the renovation and new construction at the former school. Representatives from the three organizations and Bibb County officials gathered at the school for a ceremonial groundbreaking last week.
The school building, located in the Ingleside neighborhood and known colloquially as Alex IV, will be transformed into a 60-unit "high-end senior living center," with spaces designed for public and community use.
June 29, 2020 - Urban Land
As baby boomers enter their retirement years, senior living communities are reflecting wider trends in the multifamily industry toward dynamic urban locations, walkable environments close to public transit, adaptive use of historic structures with interesting stories, sustainable design strategies, and a greater emphasis on extensive and varied social spaces and amenities. As a result, many new facilities that include independent living, assisted living, and even skilled nursing units are acquiring the look and feel of contemporary urban apartment and condominium communities.
The following 10 projects—all completed during the past five years—include the adaptive use of a historic high school and a historic hospital, a public library branch with affordable housing for seniors on the upper floors, a net-zero-energy village, a senior living residence that integrates an outpatient medical care facility and a community gathering space, and a variety of urban infill and mixed-use communities.
April 15, 2020 - Knox News
The March open house for South High Retirement and Assisted Living Facility was inevitably postponed due to Covid-19, and resident move-in dates are on hold for now. Those eager to see the extensive changes can instead take a safer, virtual tour via https://southhighknoxville.com/ while work is completed on South High Senior Living.
The transformation of South High from an abandoned school into a luxe senior living facility has been three years in the making. "It has been an extensive process. This building was abandoned for quite some time," Haley said. "A local group of people really wanted to see it saved. Rick Dover, the owner, worked with that team to salvage this beautiful piece of property."
Dover, who has transformed many local historic buildings in Knoxville, started work on it in October 2016. "Prior to that, the City of Knoxville were looking at a few different facilities," said Haley. "And, then there were conversations about bulldozing it."
January 7, 2020 - Knoxville Focus
Old South High School's transformation to South High Senior Living is progressing nicely! The conversion of the old school, which was built in 1937 and closed following the graduation of the class of 1976, is quickly transforming into the vision of Dover Signature Properties.
Dover Signature Properties is developing a new Assisted Living and Memory Care community to be managed by Integral Senior Living when completed in April 2020. The project is estimated at $12.2 million to restore and renovate the 42,000-square foot building.
Helen Porter, executive director of South Knox High Senior Living, toured the renovations last week and is excited about the progress. She is a certified dementia practitioner and an Alzheimer's disease and dementia care trainer. Porter said that this will be one of the most beautiful senior living communities in Knoxville and said she is thrilled for South Knoxville natives to have a place to call home. Thirty-four apartments will be devoted to assisted living residents and 24 will be devoted to memory care residents. Individuals age 62 years and older may qualify for care in the community.
December 10, 2019 - Knoxville Focus
What developer Rick Dover has done with old Knoxville High School is amazing. If you ever visited the old building before Dover bought and converted it to apartments you'd be absolutely pleased.
Dover, who is known for repurposing old buildings, started in Lenoir City and Loudon by buying and renovating a former hospital, an old school, and the historic Carmichael Inn.
While he's built new structures, like Northshore Senior Living, his real talent and love is returning old buildings to use with modern amenities. His approach in creating Oakwood Senior Living out of a former school and his conversion of the old Farragut Hotel into Hyatt Place has received praise. And he loves to include the history of the buildings into the renovation.
October 30, 2019 - Inside of Knoxville
It's been many years coming. The reclamation of the city block bounded by Church Ave., Cumberland Ave., Locust St., and Henley St. has seen several aborted attempts at returning it to life. I first reported on the current proposal (though it has since evolved) over two years ago. Most recently, I presented the current version of the plan last May. With the first scoops of dirt moved by local dignitaries today, the project is officially underway.
It is being called "one of the biggest private projects in the history of downtown Knoxville" by the developers. The project includes 237 apartments with parking and amenities and a conversion of the former Supreme Court and adjacent building into a hotel. It's a joint project with Dover Signature Properties and Bristol Development Group with a projected total investment of $76,000,000.
"Dover is based locally, and while Bristol Development is based in Nashville, its CEO, Charles Carlisle, is a UT graduate who started his career in Knoxville. The project blends new construction with a renovation and re-purposing of an older building. It's something Dover Properties has done successfully with numerous local, historic properties, such as Knox High Apartments (formerly Knoxville High School) and Hyatt Place (formerly the Farragut Hotel).
October 27, 2019 - Knoxville News Sentinel
As Dover Signature Properties and Bristol Development Group begin construction in early November to revitalize the city block bounded by Locust Street, Cumberland Avenue, West Church Avenue and Henley Street, the developers hope the $76M project will lead the transformation of the southwest quadrant of downtown.
The project, one of the largest upfront private investments in downtown's history, will repurpose the former State Supreme Court building, its attached office tower and its parking lot into a short-term rental hub and a mixed-use apartment community.
"I think we'll raise the bar for the experience that people have coming to downtown Knoxville," Dover Signature Properties president Rick Dover said.
July 10, 2019 - Knoxville News Sentinel
Another step in the $12.2 million redevelopment of old South High into a senior living facility was taken Tuesday, with a ceremonial viewing of the progress of the project.
City Council members, Mayor Madeline Rogero and developer Rick Dover, as well as members of the South Knoxville community, hammered nails and signed wallboard, which was installed in what used to be the old gym and was later converted into a cafeteria.
"We're inviting folks in for a kind of progress viewing. We will go in and we'll have some before pictures and you'll see the process as it unfolds," Dover said. "We're just now starting to hang the Sheetrock ... so it just seemed like a fun thing to do to ask anyone who is interested to come in and drive a nail into the Sheetrock."
July 05, 2019 - WBIR News
The old school on East Moody Avenue in South Knoxville has been empty since 1991. Rick Dover, the developer responsible for Knoxville High Senior Living near downtown Knoxville, plans to also turn this school into a senior living facility.
Crews have already put new windows and a new roof on the building. The city said they are working on the interior of the school now. Next week, the city plans to install sheetrock in what was once the gym.
There have been previous attempts to privately redevelop the property but they failed and it continued to deteriorate. "Knoxville City Council in 2015 authorized the City's purchase of the blighted former South High School for about $190,000, and the City's Community Development Department issued a Request for Proposals, seeking a new owner who would renovate the iconic site and bring it back into reuse," a release from the city said.
January 14, 2019 - Inside of Knoxville
Dover Signature Properties has announced that a portion of the Knoxville High development, the previous Number Three Firehall will be offered as Firehall Apartments. The market-rate apartments will be managed by Senior Solutions, the company which manages Knoxville High Senior Living, but it will not be a part of the senior living component.
The building is located on Fourth Avenue just behind the main Knoxville High campus. All twelve units are ready for occupancy and one currently has a commercial tenant, with Motion Physical Therapy having moved in earlier. Of the remaining eleven units, two are under lease and the other nine are available.
The units are similarly finished to those in Knoxville High, but will be leased without the meal component and other amenities in the senior living portion. All units have washer/dryer, range, microwave and dishwashers included and are wired for AT&T or Comcast. Security and maintenance is included and a trash pick up service is available and a possible rooftop space is being explored. The apartments range in size from 580 square feet to 820 square feet and in price from $900 per month to $1520 per month.
December 30, 2018 - Knoxville Focus
Knoxville High competed against projects across the nation, but Senior Housing News found it the best in America for 2018. It's a significant award for owner/developer Dover Development and for architect Daniel Levy of DKLEVY Design. Both firms are located in Knoxville.
"If anything ever proved the adage "everything old is new again" it is this building," said Dover. "It's heritage and beauty have been preserved, but new areas designed in as well. The beauty of a 100-year-old building, with the great features that have been developed during that century."
"The design challenge is to honor and preserve the past, while still making the building fresh and new," said Levy, whose firm did both the architecture and interior design. "It means at lot that Senior Housing News judged it the best of 2018, because a lot of old buildings are being repurposed this way. It was stiff competition."
June 26, 2018 - Knoxville News Sentinel
Jo Ann Humphrey becomes the first Knoxville High graduate to move into the new Knoxville High Independent Living Brianna Paciorka, USA TODAY NETWORK – Tennessee.
The last time Jo Ann Humphrey spent her days at Knoxville High School, she was shy, introverted, easily embarrassed. "I didn't belong to any clubs, or anything like that," Humphrey said. "I didn't want anybody to look at me.".
Fortunately, Humphrey, 85, has had time to outgrow some of that. Now the Knoxville native, a 1950 graduate of Knoxville High, has returned to her alma mater — to live. And this time around, she's looking to be more involved.
On Monday afternoon, with her children, grandchildren and great-grandson assisting, Humphrey moved into a one-bedroom apartment, a former classroom, at the Knoxville High Independent Senior Living, which was a high school from 1910-1951...
May 23, 2018 - Knoxville News Sentinel
It's been 67 years since the Knoxville High Class of 1951 attended their last class in the historic building. On Tuesday, more than a hundred Knoxville High alumni experienced their high school in a different way as they toured the new Knoxville High Independent Senior Living center.
Developer Rick Dover gives pre-opening tour of the restored Knoxville High Monday, April 23, 2018. The grand opening of the old Knoxville High School into a senior independent living facility is Tuesday morning. "It's hard to believe this is the same place," said Betty Keck McKenzie, a Knoxville High alumna from 1950.
Knoxville High alumni, who have been gathering once a year to discuss the future of their high school, have been waiting to tour the new senior living center since development started. "I'm glad to see that it's been developed as well as it has," said Ben Christenberry, the 1951 class president. "It has saved the school."
The original proposal by Rick Dover was accepted by the city in December 2016. You can see my summary of that plan and a link to the full plan in my article from just over a year ago. Part of that agreement was that conceptual designs would be submitted for discussion by April of this year with a deadline of December of this year for the plans to be accepted by the city in order for the project to move forward. This was a meeting to discuss that submission. The agreement further states that construction must begin by the end of 2019 and it should be completed by 2022....
May 2, 2018 - Inside of Knoxville
Rick Dover, DIA Architects, J Davis Architects and Bristol Development Group recently presented their current vision for the Supreme Court Site on the downtown block bounded by Henley, Church, Locust and Cumberland to City Council in a workshop. The entire city block project is pivotal to downtown development as it has the potential to connect downtown to the Convention Center and beyond, to stretch downtown residential and retail parameters and to engage and begin to reshape Henley Street.
The original proposal by Rick Dover was accepted by the city in December 2016. You can see my summary of that plan and a link to the full plan in my article from just over a year ago. Part of that agreement was that conceptual designs would be submitted for discussion by April of this year with a deadline of December of this year for the plans to be accepted by the city in order for the project to move forward. This was a meeting to discuss that submission. The agreement further states that construction must begin by the end of 2019 and it should be completed by 2022....
April 26, 2018 - WATE.com 6 On YOur Side
The Historic Knoxville High School reopened Tuesday as an independent senior living facility. Opened in 1910, the school building has not changed much on the outside in 108 years.
Inside it sat in disrepair for years, though. Former audiologist Marcia Power remembers that well from 25 years working there.
"It was just an old building. In fact, we were seriously concerned that the building would not be able to be saved," Power said. Tuesday she and dozens of others with memories there got a first look inside after a $15 million effort to revitalize the Knoxville landmark. "I think I have an old person's heart. I love history," Power said. Tuesday she and dozens of others with memories there got a first look inside after a $15 million effort to revitalize the Knoxville landmark...
April 24, 2018 - Knoxville News Sentinel
For the first time in decades there will be life in the old Knoxville High building later this week. The doors to the newly renovated Knoxville High Independent Senior Living building will open and residents will begin to move in.
The 80-unit senior independent living center is a product of Knoxville developer Rick Dover. On Tuesday morning, he will welcome residents and local officials for the grand opening.
Dover, a native Knoxvillian, acquired the building in 2014 for $500,000 after being awarded the building by Knox County. The original project cost was $12.5 million, but has crept closer to $15 million.
"It's all I can do to keep from tearing up when I come into this building, it's just so fantastic," he said Monday. "I guess your favorite (project) is the one you finished most recently, but you try to take your accumulative knowledge and experience and apply all of that en masse as you go forward."...
April 23, 2018 - Knoxville News Sentinel
April 23, 2018 - The Knoxville Focus
April 23, 2018 - Knoxville News Sentinel